Main market themes
Markets slipped for the third consecutive session overnight as trade optimism faded over President Trump's latest remarks that suggested that the US is up to fight a multi-front trade war with its key trading partners well into 2020.
Trump said that he was willing to wait until after next year's general election to strike a limited deal with China, alongside Wilbur Ross' confirmation that a scheduled tariff hike on Chinese goods on 15 Dec would go into effect if a deal isn't reached by then.
Trade tensions have also intensified with France as the nation threatened retaliation after the US proposed levies of up to 100% on French luxury goods in response to France's new digital tax that targets large tech companies. On Monday, Trump had also restored tariffs on Brazilian and Argentinian steels.
Taking cue from falling European equities, US benchmarks fell around 0.6-1.0%, benchmark treasuries yields tumbled by 6-10bps, XAU and JPY edged up on safe havens bidding. Markets shunned USD in a broad risk-off mode, GBP surged after latest poll suggested wider Tories lead in next week's elections.
Crude oil benchmarks were mixed- WTI recovered 0.25% to $56.10/barrel while Brent dropped to $60.82/barrel.
Australia 3Q GDP missed estimate: Australia economy expanded by 0.4% QOQ in the third quarter of 2019 (2Q: +0.6% revised), missing analysts' forecast of a 0.5% growth but was accompanied by an upward revision to 2Q growth figure from 0.5 to 0.6%). The slowdown reflects continuous albeit smaller decline in consumption and investment and smaller increase in exports. Compared to the same period last year, GDP grew 1.7% (2Q: +1.6% revised). On a separate note, the AiG Performance of Services Index slipped by 1.5pts to 53.7 in November (Oct: 55.2 revised), marking the services sector fourth month of positive but moderating conditions.
Benign Eurozone factory gate inflation: The industrial producer prices index picked up a mere 0.1% MOM in October (Sep: +0.1%) to extend its current lacklustre trend that confirms a lack of prices pressure in Euro Area factories amidst an ongoing downturn. Compared to the previous year, PPI declined by a sharper 1.9% YOY (Sep: -1.2%) attributed to the continuous fall in prices of energy and intermediate goods.
Today, there will be key US data in the form of the ADP employment report and the non manufacturing ISM report. The final print for the Markit US services and composite PMIs will also be due. Vice Chair for supervision, Fed Governor Randall Quarles will provide his testimony to Congress on the topic of supervision and regulation, despite the blackout period, first to the US House Financial Services Committee today, and then to US Senate Banking Committee tomorrow.
Today's Options Expiries for 10AM New York Cut (notable size in bold)
EURUSD (Intraday bias: Bullish above 1.1050 targeting 1.1110)
From a technical and trading perspective, 1.1060 target achieved, as 1.1050 acts as support look for further gains to test offers and stops above 1.1100. Only a move back below 1.1030 concerns the bullish bias suggesting a false upside break. NO CHANGE IN VIEW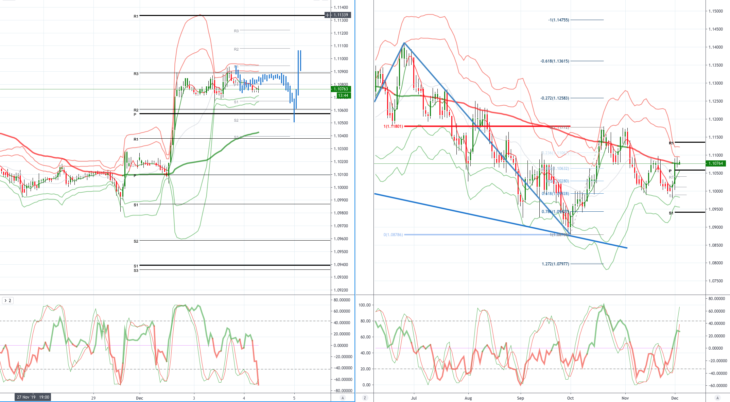 GBPUSD (Intraday bias: Bullish above 1.29 targeting 1.32)
From a technical and trading perspective, close above 1.29 injects upside momentum, with stops above 1.30 the immediate upside objective, only a reversal below 1.2820 would concern the bullish bias suggesting a false upside break and return to well defined 1.27/1.29 range.
GBPUSD…UPDATE stops above 1.30 tested, as 1.2950/60 supports expect another run to test resistance at 1.3030, which will likely cap on the first test.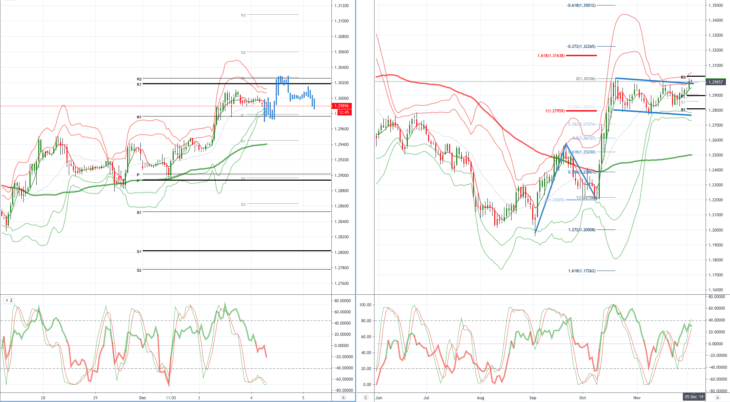 USDJPY (intraday bias: Bearish below 109.50 targeting 108.00)
From a technical and trading perspective, the close back towards 109 would suggest a false break and return to the well trodden range 108/109. Yesterday the pair printed a six month high only to close back at the lows of the day, printing a bearish key reversal pattern. Follow through selling today will open a move to test bids back to range support at 108 NO CHANGE IN VIEW
AUDUSD (Intraday bias: Bullish above .6830 targeting .6900)
From a technical and trading perspective, .6750 downside target achieved the pair now has a window to develop a base for another attempt to move higher, as .6770 now supports look for another push higher to test offers and stops above .6800. Failure below .6750 would be a bearish development opening a test of year to date lows sub .6700.
AUDUSD…UPDATE anticipated basing pattern plays out stops above .6800 gunned, as .6810 supports look for a further grind higher to test offers and stops towards .6900. A failure below .6790 would concern the bullish bias suggesting a false upside break.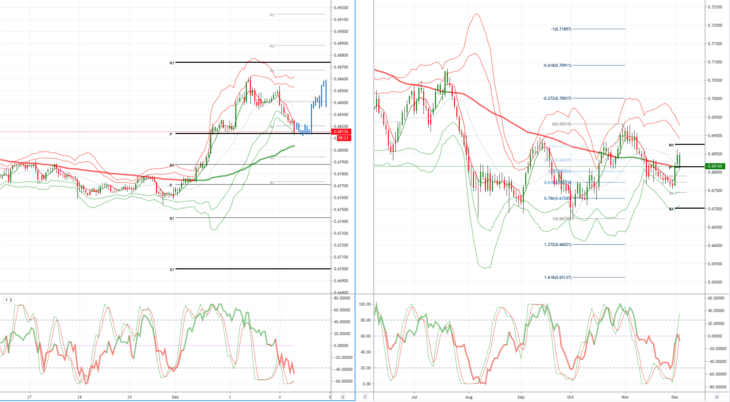 Disclaimer: The material provided is for information purposes only and should not be considered as investment advice. The views, information, or opinions expressed in the text belong solely to the author, and not to the author's employer, organization, committee or other group or individual or company.