Main market themes
The news of Iranian missile attacks on two US air bases in Iraq caused a sell-off in the Asian market and a rally in safe-haven assets such as government bonds. The Brent crude oil prices initially spiked sharply to almost $72bbl but later fell back after Iranian sources said that the country was not looking for war with the US.
Meanwhile, a Boeing 737 bound for Ukraine crashed just after taking off from Iran. However, it has been described as a technical accident, unrelated to the rise in Middle East tensions.
The 'risk off' reaction to the latest Middle East news has been relatively muted as markets continue to assume that the situation will not seriously escalate. So although government bonds and other safe-haven assets have rallied, most foreign exchange rates are little changed from yesterday. Nevertheless, the US response to the latest development will be a key focus today particularly as the data calendar is so sparse.
In Germany, November factory orders posted a much larger-than-expected decline of 1.3% suggesting that manufacturing's malaise continues.
US ISM Non-manufacturing PMI beat estimate: The ISM non-manufacturing index beat estimate to record a higher than expected reading of 55.0 in December (Nov: 53.9) that indicates a quicker expansion in services sector activity at year end. The gain in headline reading was led mainly by the nearly 6pts increase in production. New orders continued to pick up albeit at a much slower pace while hiring remained strong that spells good outcome for Friday's NFP payrolls.
US trade deficit narrowed to three-year low: US trade deficit shrank to three-year low of $43.1b in November (Oct: -$46.9b), as exports rebounded to increase 0.7% MOM (Oct: -0.1%) whereas imports continued to decline, albeit by a smaller magnitude of 1.0% (Oct: -1.7%) Deficit with China also slipped to $26.37b (Oct: -$31.3b) ahead of the phase one trade deal in December. Deficit has been trending down in recent months and would be a boon to 4QGDP.
Eurozone inflation accelerated on higher energy prices; retail sales beat expectations: The headline HICP inflation for all items rose to 1.3% YOY in December (Nov: +1.0%) on higher energy prices as oil prices went up last month. The core reading was held steady at 1.3% YOY for the second month in a row, supported by firmer services inflation, giving some comfort to the ECB despite it's still too early to say that prices are picking up and returning back to the central bank's target. In a separate note, retail sales also came in stronger than expected, recording an impressive growth of 1.0% MOM in December (Nov: -0.3% revised), attributing to Black Friday sales and generally the rise in spending ahead of Christmas.
Japan services sector slumped to contraction: Japan services sector activity returned to contraction in December as the Jibun Bank Japan Services PMI slipped to 49.4 (Nov: 50.3) according to a final reading after a short-lived rebound in November. The decline was reported to be the largest in over three years, ending the worst quarterly economic performance since 3Q16 according to Markit. Underlying conditions remained weak in Japan despite an increase in new orders, business from international clients also contracted for the first time since June. The latest services print, alongside yesterday's contracting manufacturing PMI (48.4) built stronger case for a contraction in Japan's 4Q19 GDP.
Today's Options Expiries for 10AM New York Cut (notable size in bold)
EURUSD (Intraday bias: Bearish below 1.1175 targeting 1.11)
From a technical and trading perspective, the daily chart is orientated with a bearish bias, however as prices continue to hold the 1.1150 as support there is a window for prices to pressure stops above 1.12, looking for sellers to remerge here for a test of the symmetry swing downside objective sited at 1.11. NO CHANGE IN VIEW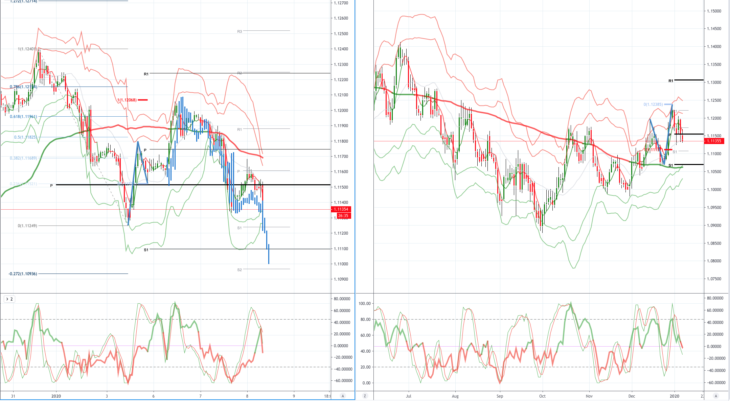 GBPUSD (Intraday bias: Neutral, Bullish above 1.3150 Bearish below 1.3050)
From a technical and trading perspective, as .1.3150 caps upside attempts look for a test of bids and stops below 1.3000, failure to find a base here would open a test of pivot confluence down to 1.2930/35, only a breach of 1.3150 would delay downside objectives.
GBPUSD…UPDATE the upside breach of 1.3150 suggests a test of offers and stops above 1.3210, as this area caps there is a window to retest 1.3050 support. A close above 1.3250 would set an equidistant swing objective at 1.3420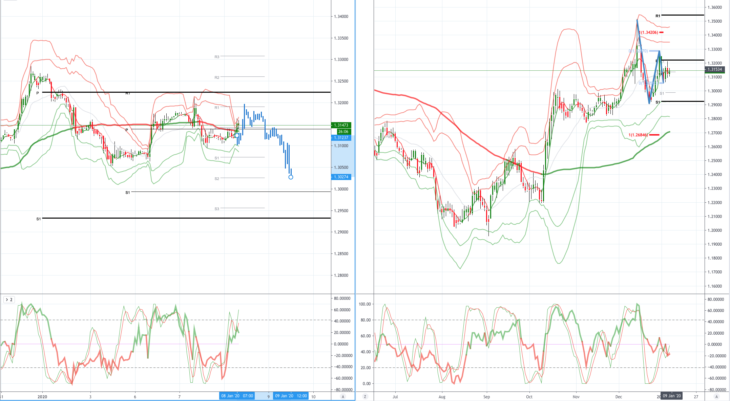 USDJPY (intraday bias: Bullish above 108.65 Bearish below 108.50)
From a technical and trading perspective, as 108.50 contains upside moves, look for a grind lower to test bids and stops below 107.50, expect profit taking on the first test of this area. On the day only a move through 108.60 would negate the downside objectives.
USDJPY…UPDATE downside objective all but achieved on overnight spike south. The sharp rejection of these lower levels suggests a window for a reversal pattern to play out. Look for a close through 108.65 to set up a tet of offers and stops above 109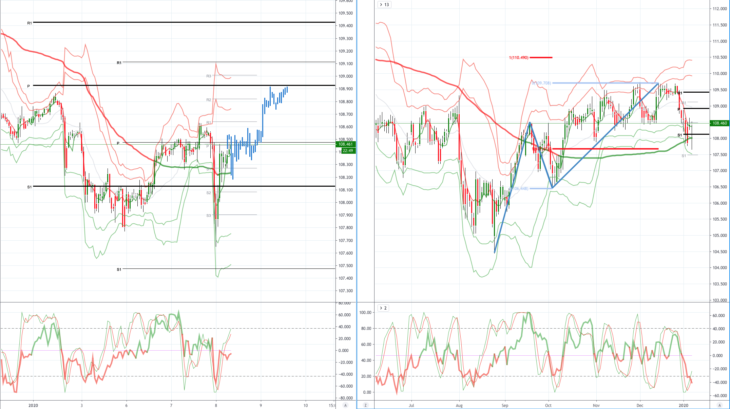 AUDUSD (Intraday bias:Bearish below .6930 targeting .6840)
From a technical and trading perspective, as .6970/80 cap any upside advance look for a breach of support at .6930 to open another leg of downside to target bids and stop sited below .6900. On the day a move through .6980 would negate the downside scenario opening a retest of prior swing highs to .7030.
AUDUSD…UPDATE failure below .6900 with .6930 now acting as intraday resistance look for a test of .6840 next, look for profit taking here as we test symmetry swing support. There is a window for prices to base here and develop a platform for a correction to retest .6940 from below.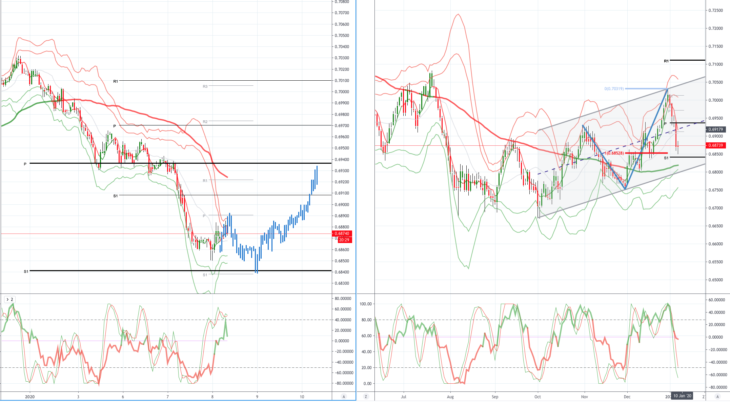 Disclaimer: The material provided is for information purposes only and should not be considered as investment advice. The views, information, or opinions expressed in the text belong solely to the author, and not to the author's employer, organization, committee or other group or individual or company.