Main market themes
Risk sentiment has taken a turn for the worse overnight on fears about the spread of the Coronavirus from China. The Asian market lower, gold is firmer while the USD is mixed in G10 FX and bid against EM FX.
The Bank of Japan left policy unchanged as expected. It revised up its growth outlook reflecting fiscal stimulus, suggesting that the risk of further monetary policy easing has receded.
US market was closed on Monday for Martin Luther King Jr's Day. European stocks largely retreated overnight while Asian benchmark indexes finished on a mixed note.
Oil prices jumped as a Libyan Rebel militia shut a critical pipeline that temporarily halted production but pared gains at the end of the day over relief that abundant world supplies could still support demand. The global benchmark Brent crude spiked as much as 1.7% intraday as the news broke before giving up gains to finish only 0.5% higher at $65.20/barrel.
Presidents Emanuel Macron and Donald Trump have reached a truce to prevent any trade dispute escalation until the end of 2020, after the United States threatened to impose levies on multiple French luxury products in December following France's plan to tax (3%) revenue from digital services made by foreign firms.
The IMF projected the global economy to grow 3.3% in 2020, a downward revision from 3.4% forecasted in October. It expects 2019 growth to be at 2.9%. Earlier yesterday, the PBOC kept its one-year loan prime rate at 4.15%, consensus was projecting a cut to 4.10%.
UK house prices jumped post election: The Rightmove House Prices Index picked up 2.3% MOM in January (Dec: -0.9%) that led the index to post a whopping 2.7% YOY gain, its largest increase in 2.5 years (Dec: +0.8%) as buyers demand jumped in response to the Conservative Party's decisive win in early December's general election which had eased Brexit fear substantially.
Japan industrial production slipped again in Nov: Japan industrial production slipped for the second straight month by 1.0% MOM in November (Nov: -4.5%) leaving the annual pace of contraction at 8.2% YOY (Oct: -7.7%), as Japanese manufacturing sector remained mired in downturn in the last quarter of 2019 following an October typhoon that disrupted factory activities.
Today's UK official labour market statistics could help to shape the upcoming policy decision, despite being somewhat backward-looking. BoE Governor Carney, meanwhile, is scheduled to speak on a panel about "solving the growth equation" at the World Economic Forum in Davos.
In the Eurozone, the German ZEW survey of investors is expected to show further improvement, reflecting easing global trade tensions.
US markets return after yesterday's public holiday (Martin Luther King Day). There are no data releases and focus will likely be on the start of President Trump's impeachment proceedings at the Senate. A two-thirds majority is needed to remove him from office. Trump's legal team are looking for a 'swift' acquittal.
Today's Options Expiries for 10AM New York Cut (notable size in bold)
EURUSD: 1.1145 (EUR519mn) 1.1150 (EUR769mn) 1.1185 (EUR658mn)
GBPUSD: 1.3000 (GBP314GBP) 1.3040 (GBP252mn) 1.3095 (GBP404mn)
USDJPY: 109.40(USD700mn) 110.00 (USD507mn)
EURUSD (Intraday bias: Bearish below 1.1120 Bullish above)
From a technical and trading perspective, with the optionality in th e1.11/1.1150 area expiring, prices took out the 1.11 support, as 1.1120 caps corrections look for a test of pivotal 1.1040/60, look for daily reversal patterns from this level as an opportunity to take on long exposure. If bids fail to emerge here bears will press for a test of bids towards 1.10 and stop below.

GBPUSD (Intraday bias: Bearish below 1.3050 Bullish above)
From a technical and trading perspective, as 1.3035 caps corrections to the upside look for a test of bids and stops below 1.2950. A close above 1.31 would suggest a delay to downside objectives opening a retest of range resistance, with offers and stops above 1.32 targeted.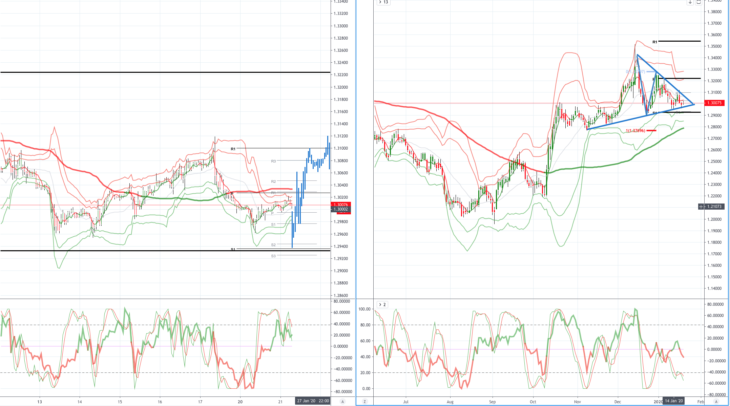 USDJPY (intraday bias: Bullish above 108.65 targeting 110.50)
From a technical and trading perspective, the breach of 109.50 provides a window for upside extension to challenge the 110.50 equidistant swing objective. Only a failure back below 109.80 would suggest a period of consolidation/correction. Note significant sentiment divergence developing which will likely be addressed over coming sessions.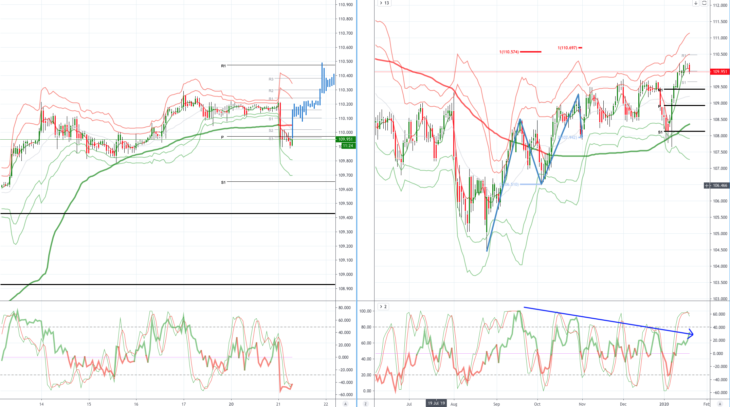 AUDUSD (Intraday bias: Bullish above .6910 Bearish below .6885 below)
From a technical and trading perspective, the failure to establish ground above .6940 has seen the anticipated freshly minted long liquidation opening another test of .6840 bids. If bids fail to emerge here look for a test of ascending trendline support to .6800.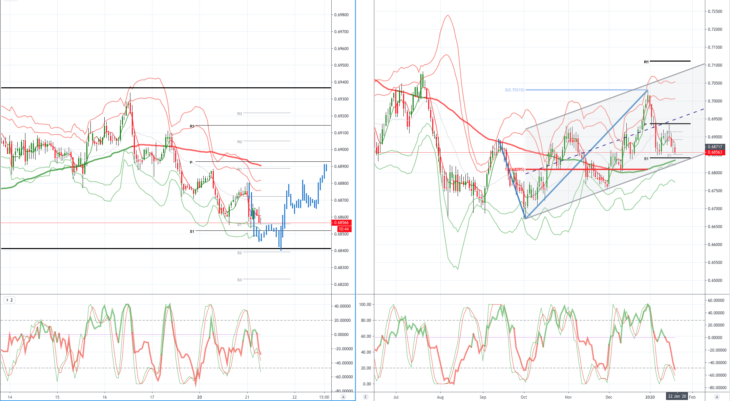 Disclaimer: The material provided is for information purposes only and should not be considered as investment advice. The views, information, or opinions expressed in the text belong solely to the author, and not to the author's employer, organization, committee or other group or individual or company.