Main market themes
US stocks ended on a mixed note again overnight as fresh uncertainty on US-China trade deal kept traders on the sidelines following recent headlines that suggest trade talks might have been hindered over issues such as tariffs rollback and agricultural purchases.
Fed Chair Jerome Powell testified before the Joint Economic Committee and sent a clear signal that the central bank has no intention to cut rates further this year and fended off Trump's call for a negative interest policy.
The Dow Jones picked up 0.3% to hit another record high, led by the 7% rally in Walt Disney's shares after its newly launched streaming service Disney+ was reported to have hit more than 10mil subscribers. S&P 500 and NASDAQ both traded little changed.
Dollar was up, bond yields slipped by 3- 5bps as trade uncertainties triggered a rush to safe havens.
Oil prices reversed losses as OPEC sees positive growth outlook – Brent crude settled 0.5% higher at $62.37/barrel.
US CPI topped estimates, no change in the Fed's outlook: Headline consumer price index (CPI) beat expectations to record a 0.4% MOM increase in October (Sep: +0.0%) , supported by higher energy prices, while core CPI that stripped out food and energy was also a tad stronger at 0.2% MOM (Sep: +0.1%). YOY, CPI rose 1.8% (Sep: +1.7%), its strongest gain in three months but growth in core CPI eased a little to 2.3% YOY (Sep: +2.4%), reflecting a modest pickup in the underlying trend. October CPI figures are unlikely to change the Fed's policy outlook in the medium term as it is still expected to hold rate steady in its last meeting in December. On a separate note, US mortgage applications surged by 9.6% last week (previous: -0.1%) after a month of lacklustre demand.
Surprise gain in Eurozone industrial production: Eurozone industrial output defied consensus estimate to pick up 0.1% MOM in September (Aug: +0.4%), marking its second month of back-to-back expansion, offering tentative signs of a moderation in the current manufacturing downturn. Analysts had been expecting output to record a 0.2% MOM contraction following a 0.4% MOM increase in the previous month. The September print was lifted by the expansion in capital goods and nondurable consumer goods production. Germany remains a core weakness among the bloc's member as its largest economy registered a 1.0% MOM decline in output (Aug: +0.7%), reversing August's gain.
Softer price pressure in the UK: Numerous price reports out of the UK confirmed absence of price pressure in the UK economy. CPI moderated more than expected to a near 3-year low of 1.5% YOY in October (Sept: +1.7% YOY), PPI output eased more than expected to 0.8% YOY (Sept: +1.2% YOY) while retail price index also posted a bigger than expected pullback to 2.1% YOY during the month (Sept: +2.4% YOY). Contrary to this, core CPI was seen steadying at 1.7% YOY in October. Prices of food & non-alcohol, housing, household, communication, recreation and education registered smaller price gains.
Japan 3Q GDP growth slowed more than expected: Japan GDP missed the mark to record a slower 0.1% QOQ gain in the third quarter of 2019 (2Q: +0.4% revised) according to preliminary report. Analysts had been expecting growth to clock at 0.2% QOQ. Looking at the details, the main drag on growth was the negative contribution by private inventories and net exports as exports has been contracting since late last year. Private consumption made a smaller contribution and recorded growth (0.4% QOQ vs +0.6% QOQ. Contribution from investment was smaller as well and growth was a tad weaker compared to 2Q (+0.9% QOQ vs +1.0% QOQ).
Today's Options Expiries for 10AM New York Cut (notable size in bold)
EURUSD (Intraday bias: Bearish below 1.1050 targeting 1.0960)
From a technical and trading perspective, as 1.1080 now act as resistance expect a test of pivotal support at 1.1020 abreach here would open a deeper correction to test 1.0960/40. On the day a breach of 1.1050 would stabilize the pair, suggesting the correction is complete. NO CHANGE IN VIEW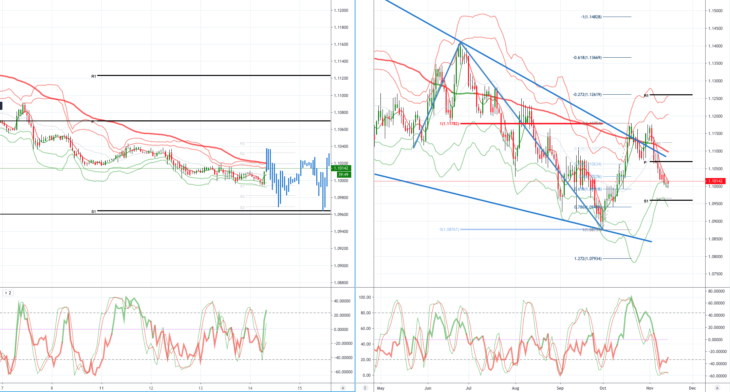 GBPUSD (Intraday bias: Bearish below 1.2840 targeting 1.2725)
From a technical and trading perspective, as 1.2840 caps any upside attempts, look for a test of 1.2725/00, watching this area closely as we could set a base to complete the current corrective consolidation, a daily close sub 1.27 would open a deeper pullback to target 1.2580
GBPUSD…UPDATE 1.2830/20 the bull bear line in the sand if bulls can defend this area there is a window to set a base and retest stops above 1.29 highs. (Note the daily chart has flipped bullish as confirmed by the near term VWAP) A failure below 1.28 resets sights on the test of 1.2720 NO CHANGE IN VIEW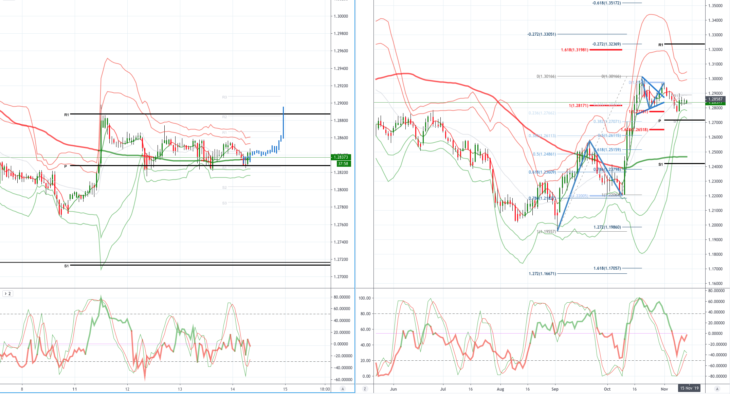 USDJPY (intraday bias: Neutral bearish below 109, bullish above 109.50)
From a technical and trading perspective, only a close above 109.60 will inject further upside momentum setting the stage for a grind higher to target the equidistant swing objectives sited at 110.57/69, however a failure to capture ground above 109.60 will likely prompt further long liquidation to test bids back towards 108.50 NO CHANGE IN VIEW

AUDUSD (Intraday bias: Bearish below .6830 targeting .6750)
From a technical and trading perspective, as .6875  caps the topside look for a test of bids and stops below .6850. As .6830 supports there is a window to set a base targeting another test above .6900 and the stops above last week's highs. A failure below .6800 would open a decline to target bids below .6850
AUDUSD… UPDATE pivotal .6830 support eroded the area a daily close below here suggests further weakness and a test of bids down to .6750.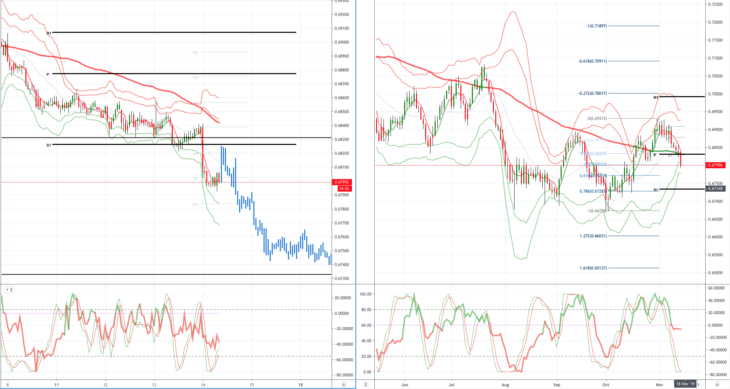 Disclaimer: The material provided is for information purposes only and should not be considered as investment advice. The views, information, or opinions expressed in the text belong solely to the author, and not to the author's employer, organization, committee or other group or individual or company.