Main market themes
Daily market outlook – Markets rose on Friday on positive trade headlines after President Trump said he was "very close" to a trade deal with China while President Xi made a rare comment that Beijing wanted to work out an interim phase deal with the US, but would not back off from retaliatory actions if necessary.
Wall Street main indexes picked up 0.2-0.4% on Friday but closed the week on a mildly weaker note.
Bonds yields finished little changed along the curve. USD gained ground to strengthen further against its major peers on better US PMI data. EUR turned more bearish as PMIs continued to reflect gloomy outlook.
Gold slid on more positive trade news, oil prices slipped around 0.9-1.4% – Brent crude closed at $63.39/barrel on Friday.
Asian stocks are set for a mixed start this week as markets look towards trade headlines and Hong Kong district council election outcome where pro-democracy candidates are up to take majority after scoring a landslide victory.
China said over the weekend that will raise penalties on violations of intellectual property rights in a bid to address a key sticking issue of the ongoing negotiation.
Based on CFTC data, the investment community remained mixed on the USD. Non-commercial accounts increased their net implied USD longs, and asset managers reduced their net implied USD shorts. However, leveraged accounts reduced their net implied USD longs. GBP shorts increased in the latest week after consecutive weeks of paring, suggesting some willingness to position against the GBP at levels near 1.3000. Meanwhile, JPY shorts were maintained, suggesting that underlying risk-on sentiment still has not shaken out too much by recent uncertainties on the Sino-US front.
What will the new week bring on the Sino-US front, now that the Hong Kong local elections and the public hearings of the Trump impeachment inquiry are done? With uncertainties still swirling, it is probably still not the time to engage risk-on plays just yet. Moreover, front-end risk reversals still favouring lower USDJPY, also starting to turn in favour of lower AUDUSD.
On the calendar today, watch for German IFO survey (0900 GMT), and comments from a host of ECB speakers (focusing on Lane at 1800 GMT), RBA's Debelle (2350 GMT) and Fed's Powell (0000 GMT).
Today's Options Expiries for 10AM New York Cut (notable size in bold)
EURUSD:  1.1000 (EUR411mn); 1.1035 (EUR565mn); 1.1065 (EUR304mn); 1.1085 (EUR638mn); 1.1090 (EUR326mn); 1.1145 (EUR769mn); 1.1150 (EUR317mn)
USDJPY: 108.50 (USD295mn); 108.60 (USD225mn); 110.00 (USD262mn)
GBPUSD: 1.2900 (GBP323mn); 1.3000 (GBP376mn)
EURUSD (Intraday bias: Bearish below 1.1070 targeting 1.0960)
From a technical and trading perspective, the failure to hold 1.1030 combined with Thursday & Fridays bearish reversals suggests tactical USD bullish bias into this week. I retain short exposure from Friday, look for 1.1050 to cap upside attempts on the day targeting a test of bids sub 1.1000. On the day only a close above 1.1070 would suggest downside failure and a return to range.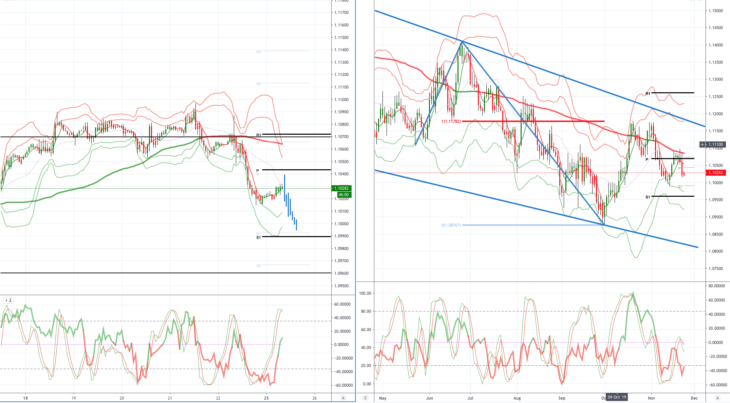 GBPUSD (Intraday bias: Neutral bearish below 1.29 bullish above)
From a technical and trading perspective, 1.29 is the bull bear line in the sand this week, a drive through offers and stops here will set up a grind higher to retest offers and stops above 1.30 en route to the broader upside objective of 1.32, on the week only a failure below 1.2820 would open a test of support towards 1.2720 with further consolidation in the 1.27/1.29 range.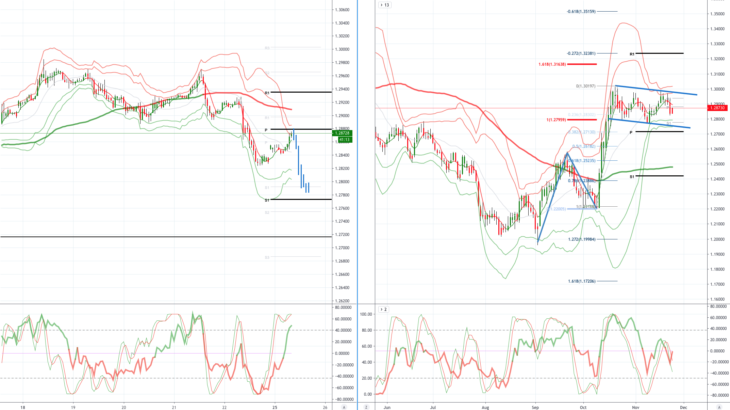 USDJPY (intraday bias: Bearish below 109 targeting 107.90)
From a technical and trading perspective, the anticipated further long liquidation to test bids back towards 108.50 played out and bulls once again defended the key support, a failure to quickly recapture ground above 109 suggests another test of bids towards 108.50. A close above 109.50 opens 110.50 test.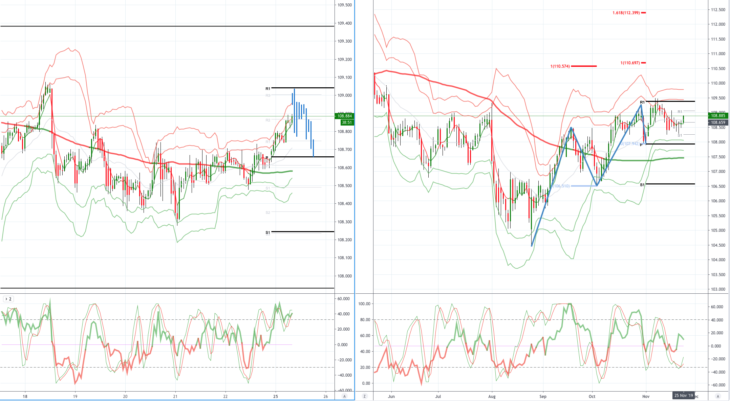 AUDUSD (Intraday bias: Bearish below .6830 targeting .6750)
From a technical and trading perspective, pivotal .6830 prior support now acts as resistance only a sustained drive through this level would suggest a false donside break and confirm a base for another assault on .6900 offers and stops. As .6830 caps upside attempts expect a retest of Fridays low enroute to a test of .6765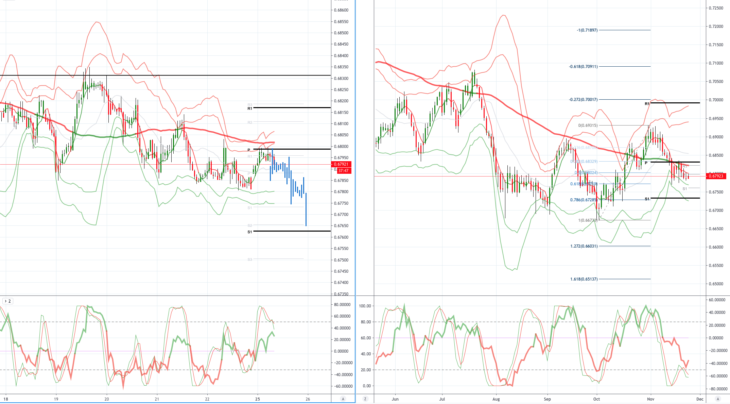 Disclaimer: The material provided is for information purposes only and should not be considered as investment advice. The views, information, or opinions expressed in the text belong solely to the author, and not to the author's employer, organization, committee or other group or individual or company.