Main market themes
Stocks extended their rally but pared earlier gains on Friday after President Trump announced a partial trade deal with China and held off on scheduled tariffs hike on Chinese goods. Officials did not disclose many details of the deal which is said to encompass agriculture, currency and "some aspect of intellectual property protection" according to Reuters. Trump said an agreement could take up to five weeks to be inked but expressed confidence that it would not fall apart within this period.
Risk-on mode prompted traders to exit safer assets, leading treasuries yields to rise by 4-7bps across the curve.
On Brexit, last week there seemed to be rising prospects of a Brexit deal as EU officials agreed to an intensive negotiation with PM Boris Johnson in Brussels. But this morning, the headlines that EU Brexit negotiator Barnier warned that Brexit talks have not made enough progress, and UK's proposals were falling short of what is needed, mainly in the customs area, subsequently sent the GBP tumbling.
Oil prices rallied by more than 2% on trade optimism and on the attack on an Iranian oil tanker as Middle East tension intensified.
On the calendar, the heavy China data flow and IMF-World Bank meetings (Tue) will give the market ample opportunities to be reminded of the soft global macro prognosis. A long list of scheduled Fed speakers as well, with Clarida (Fri) having the last word before the blackout period ahead of Oct FOMC. Event risk in Europe/UK too, with the EU Summit starting 17 Oct key for Brexit developments.
Today's Options Expiries for 10AM New York Cut
EURUSD 1.0940/50 (1.8BLN) 1.0995-1.10 (1.1BLN) 1.1090-1.1110 (1.5BLN)
GBPUSD 1.2450 (375MIO) 1.2535 (500MIO)
AUDUSD .6735 (450MIO) .6770 (200MIO) .6800 (907MIO)
EURUSD (Intraday bias: Bullish target 1.1045 achieved)
From a technical and trading perspective 1.1045 target achieved. As 1.10 prior resistance now acts as support look for consolidation to form a platform for bulls to make a run at 1.11 over the coming sessions. Only a failure below 1.0960 would concern the bullish bias.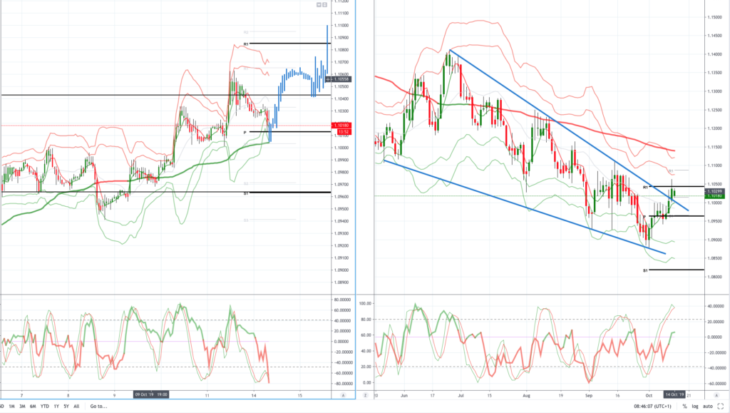 GBPUSD (Intraday bias: Bullish target 1.26 achieved)
From a technical and trading perspective 1.26 target achieved as 1.25 now acts as support look for bullish reversal patterns on on intraday basis to set long positions targeting an equidistant swing objective at 1.28.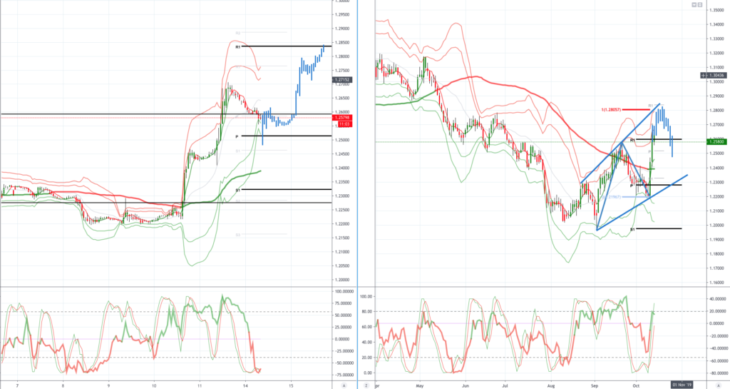 USDJPY (intraday bias: Bullish target 108.50 achieved)
From a technical and trading perspective prices 108.50 target achieved as 107.85 now acts as support look for a move through last weeks highs enroute to test offers and stops above 109 on the day only a move through 107.40 would concern the bullish bias.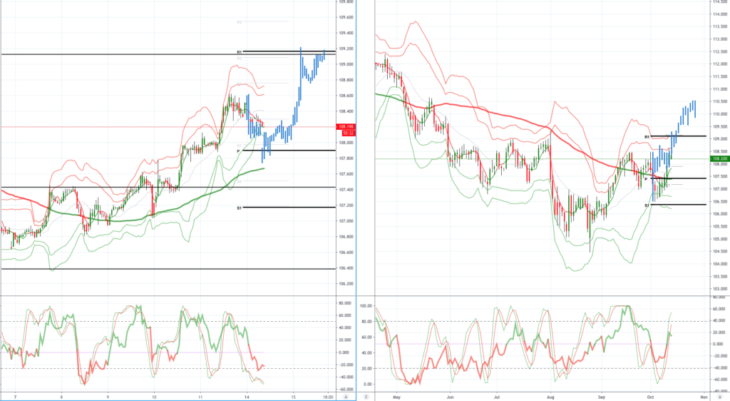 AUDUSD (Intraday bias:Bullish target .6810 achieved)
From a technical and trading perspective .6800 upside objective achieved,a failure below .6750 would concern the bullish bias and suggest a false break and a return to the range of .6700-.6800, a move back through .6810 is needed to keep upside momentum and set sights on offers and stops above .6865.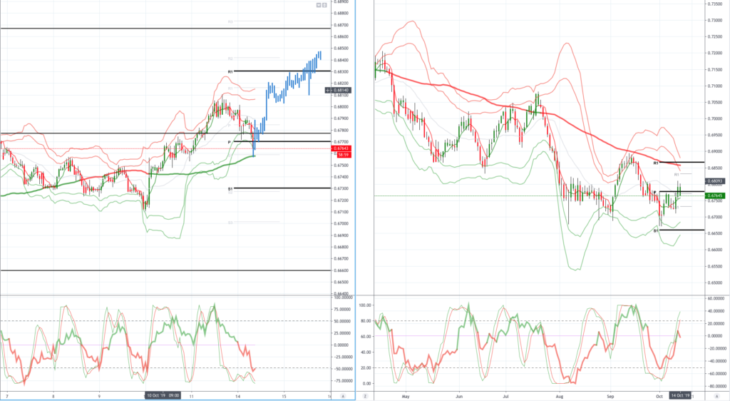 Please note that this material is provided for informational purposes only and should not be considered as investment advice. The views discussed in the above article are those of our analysts and are not shared by Tickmill. Trading in the financial markets is very risky.