Main Market Themes
US stocks extended further losing streak overnight as a lacklustre ADP job report intensified concerns over the impact of a prolonged trade war on the US economy just a day after markets were hit with a decade-low ISM manufacturing index.
Adding to the worrying growth picture was the risk of a further trade war escalation between the US and the EU after a WTO's Airbus ruling granted permission for the US to impose levy on $7.5b worth of European goods. The decision was part of a long-running dispute over subsidies given to European plane maker, Airbus, the primary competitor of its US counterpart Boeing.
On Wednesday, tracking the earlier selloff of European shares, the Dow Jones, S&P 500 and NASDAQ lost around 1.6-1.9%.
Safe havens bidding led US bonds to rally further leading yields to slip by 4- 7bps along the short-to-medium end of the curve. Yield on 2Y treasuries notes dropped by 7bps further to 1.48% as investors priced in higher chance of another Fed rate cut at the end of this month.
Oil benchmark slumped further by 1.8- 2.0% over growth concerns and US inventories buildup. Brent settled at $57.69/barrel and WTI at $52.64/barrel.
The USD is mostly weaker against G10 counterparts, with the exception of the CAD (weak crude, growth concerns spreading from US) and CHF (soft data, spillovers from firmer EURCHF). The EURUSD pushed higher to 1.0960, as the DXY Index barely held on to the 99.00 handle.
UK PM Boris Johnson revealed his "final, take-it-or-leave-it offer" for a Brexit deal to EU on Wednesday and under the proposed plan, the entire UK would leave the EU on 31 October with the original transition period staying in place until 31 December, 2020. And on 1 January, 2021, the UK will leave the customs union, which allows frictionless trade with all member states and all regulations on goods and food. Under the new plan, Northern Ireland would also leave the customs union on December 2020 but it would remain aligned on regulations and, it is assumed, freedom of movement of people within the island of Ireland for another four years, until 2025. The UK PM office also announced that the Government intends to request that the current session of Parliament be prorogued (suspended) from the evening of Tuesday,8th October. It also said that the Queen's speech is expected to be delivered on 14 October.
EURUSD (Intraday bias: Bullish above 1.0920, targeting 1.1010)
From a technical and trading perspective pivotal 1.0960 test underway, newly minted long positions may be vulnerable here as on the intraday price pattern suggests the current correction may be complete. A drive through 1.0970 is needed to inject further upside impetus. On the day a drift back through 1.0920 will have bears back in control. Note decent options expire at 1.0970 today.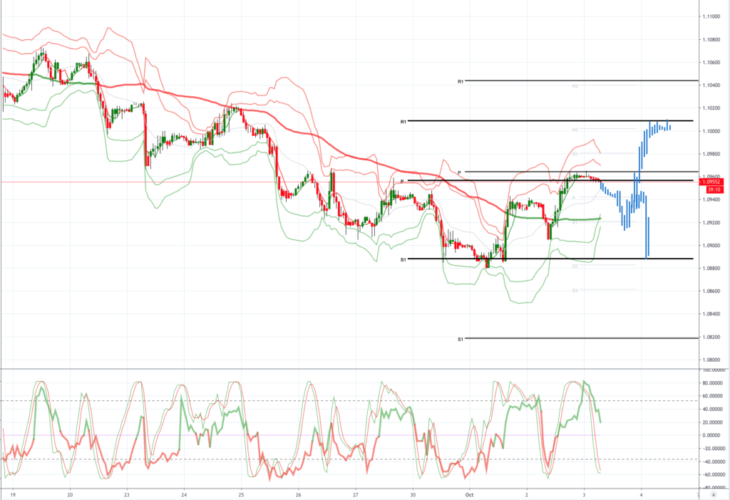 GBPUSD (Intraday bias: Bullish above 1.2250 1.22 targeting 1.2440)
From a technical and trading perspective intraday reversal from my 1.22 target plays out as 1.2240 supports look for the next leg higher to challenge 1.2350 offers, only a breach of yesterday's lows would concern the corrective bias and suggest a false break opening 1.2150/30. Note decent options expire at 1.2210 today.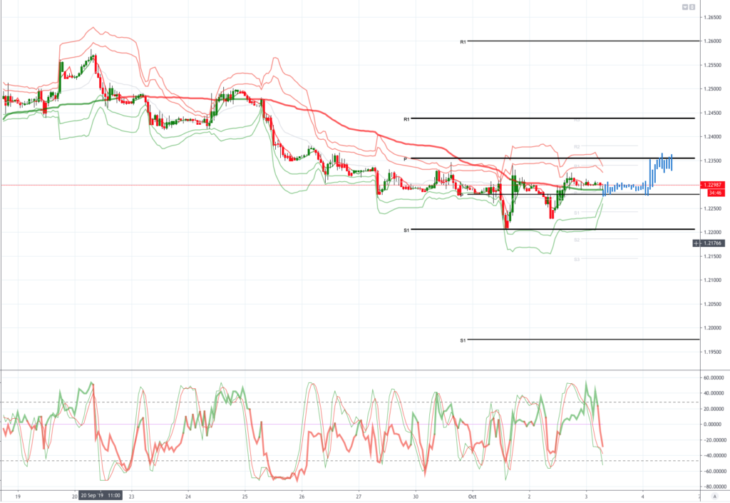 USDJPY (intraday bias: Bearish below 107.50 targeting 106.40)
From a technical and trading perspective anticipated 107 test plays out potential for a pullback from current level to test 107.50 from below as this area acts as resistance now look for another leg lower to test bids below 106.50 . On the day a move back through 108 would suggest a false downside break and reset focus on offers towards 109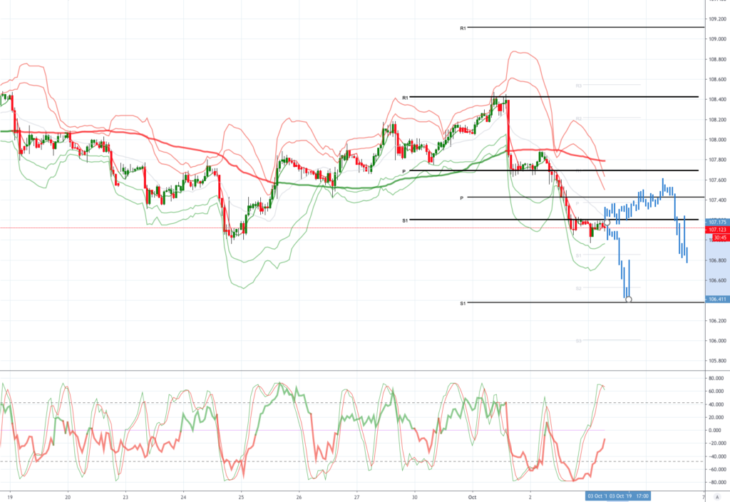 AUDUSD (Intraday bias:Bearish below .6735 target .6670)
From a technical and trading perspective the anticipated test of .6725 plays out as .6735 continues to cap upside attempts bears target a retest of .6670. A move back through .6750 is needed to renew bullish aspirations, however expect heavy going as the market tries to chew through thick offers towards .6775. Note decent options expire at .6820 today.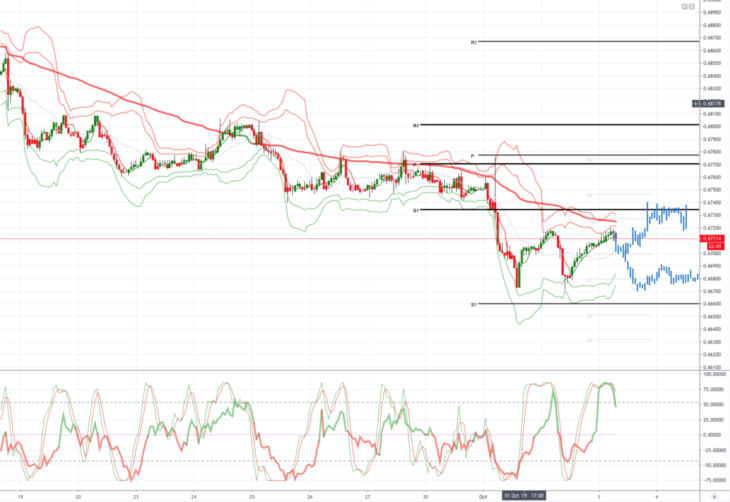 Please note that this material is provided for informational purposes only and should not be considered as investment advice. The views discussed in the above article are those of our analysts and are not shared by Tickmill. Trading in the financial markets is very risky.