Main Market Themes
US stocks recovered overnight as investors looked past impeachment risk and focused on the possibility of a US-China trade deal instead. President Trump now said that a trade deal with China could happen sooner than later, just one day after delivering an attack on a China at the United Nation General Assembly and about two weeks prior to the next round of negotiation. Trump also inked an agreement with Prime Minister Shinzo Abe in what appeared to be an initial stage of trade deal with China.
The market also rebounded after a rough transcript of Trump's call with Ukrainian President Volodymyr Zelensky was released by the White House. It showed Trump asked Zelensky if he could "look into" former Vice President Joe Biden and his son, Hunter.
Major indexes locked in modest increases, The Dow Jones and S&P 500 gained 0.6% whereas NASDAQ picked up 1.1%.
Treasury yields rose 5-10bps across the curve as sentiment improved- benchmark 10Y UST yield climbed by 9bps to 1.74%.
Oil prices fell on recovering Saudi production news WTI lost 1.4% to $56.49/barrel and Brent crude settled 1.1% lower at $62.39/barrel
Both ECB President Mario Draghi and Bank of England (BoE) Deputy Governor Sir Jon Cunliffe will both be speaking today.
EURUSD (Intraday bias: Bearish below 1.0960)
From a technical and trading perspective EURUSD has potentially posted a major double bottom at the yearly S1 pivot. Price action is setting the stage for a more meaningful recovery to the upside, however, a sustained failure below 1.10 opens 1.0965 as intraday support ahead of 1.0930. A move back through 1.1050 is needed to suggest downside risk has been eliminated and reset focus on offers above 1.11. Note Huge option strike at 1.1000 rolls of this week totaling more than EUR7.6bn, Most decent strike to mature today is 1.1000 for more than EUR6.3bn. Downside is clean but note these put options due next week EUR1.6bn at 1.0900 and EUR1.3bn at 1.0875.
EURUSD…UPDATE as 1.0960 now acts as resistance expect a test of 1.0928 lows and a likely test of bids to 1.885. Only a move back through 1.1025 would negate downside objectives.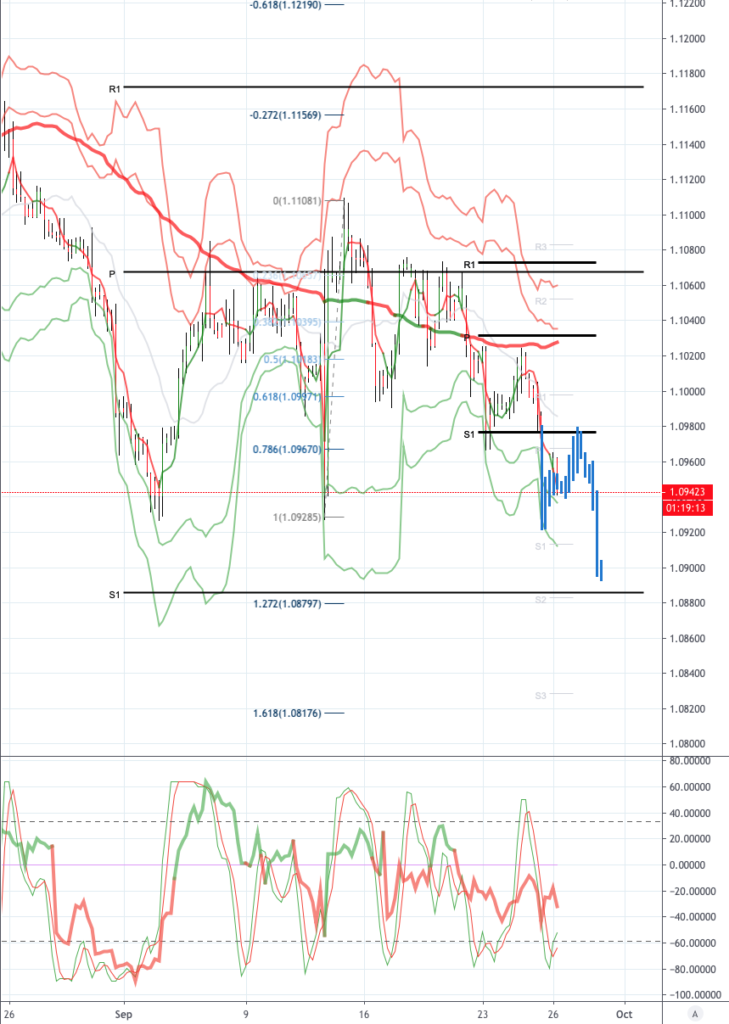 GBPUSD (Intraday bias: Bearish below 1.25 targeting 1.2310)
From a technical and trading perspective I now see the potential for a pullback to test bids towards 1.2385, where I will be watching for intraday bullish reversal patterns to set long positions targeting a test of 1.2650 a failure below 1.23 would suggest a more meaningful correction is underway to retest support at 1.22.
GBPUSD…UPDATE rally on Supreme Court ruling is short lived as 1.25 caps expect a second leg of downside to develop to test the equidistant swing objective at 1.2334, will be watching for intraday reversal patterns around 1.23 to set long positions.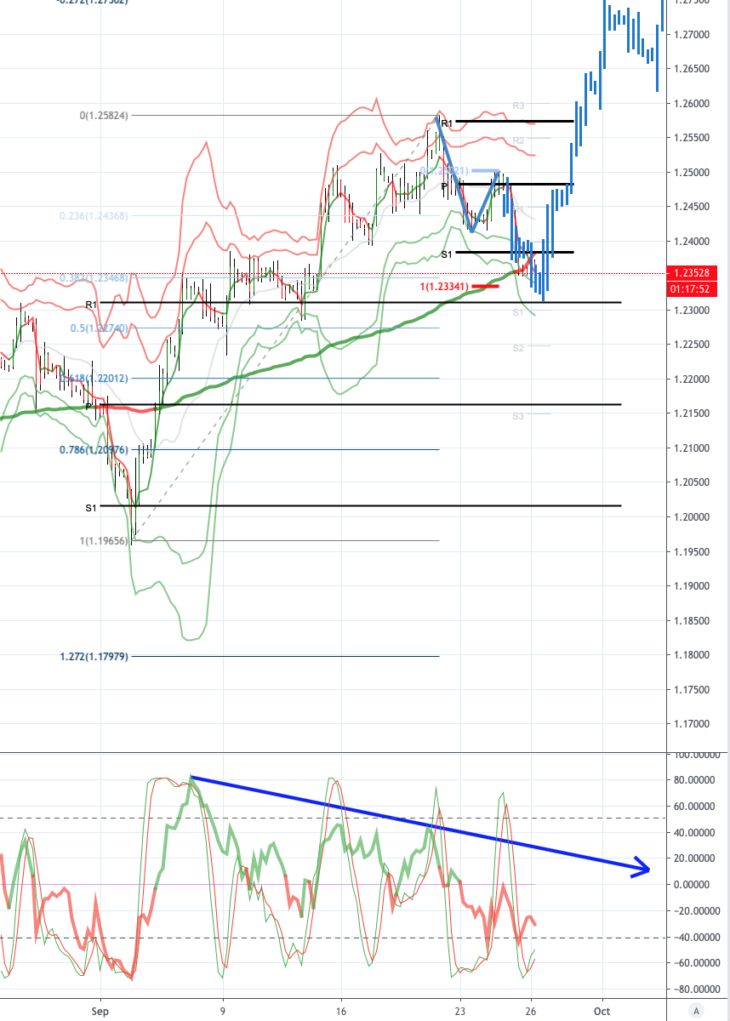 USDJPY (Intraday bias: Neutral bullish above 107.50 bearish below 107)
From a technical and trading perspective 1.08 objective achieved, as 107.50 contains the correction there is scope for the current grind higher to test offers above 109 where I will be watching for momentum and sentiment divergence to complete the current sequence and present an opportunity to initiate short exposure targeting a move back through 108 and a retest of bids below 107. Note decent option strikes rolling off today, topside, we have $2.2bn around 107.90-108.00. Downside, we have $1.4bn near 107.50-55.
USDJPY…UPDATE prices pulled back to make an early test of 107 bids which have supported on the initial test as 107.80 caps the upside price looks poised to test  the pivotal 106.5, failure below 106.40 would be a bearish development exposing stops below the August lows.
AUDUSD (Intraday bias: Bearish below .6800 targeting .6688)
From a technical and trading perspective the anticipated correction from the .6900 resistance zone has played out and extended to .6760 as this level supports .6840 becomes the immediate upside hurdle, however, a failure below .6760 would concern the bullish view and expose stops below .6700. Note large option strikes due today are 0.6775 about AUD880mio and 0.6800 for AUD1.3bn
AUDUSD…UPDATE downside extended to test bids to .6740 as .6800 caps the upside expect a test of bids towards .6725. A move back through .6810 is needed to renew bullish bias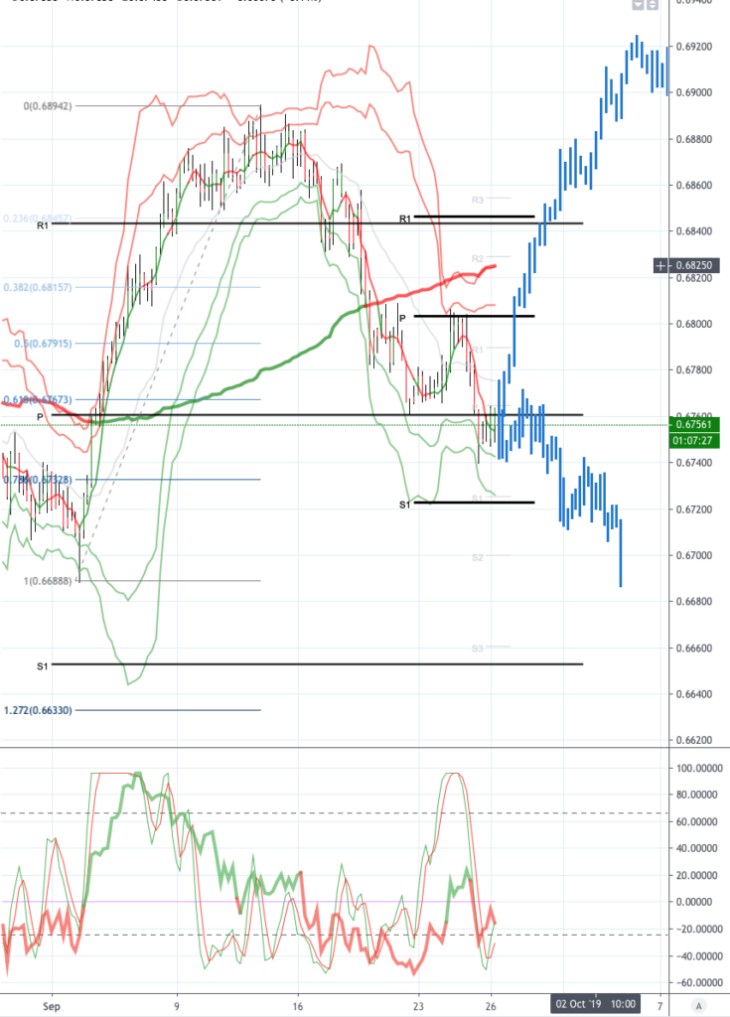 Please note that this material is provided for informational purposes only and should not be considered as investment advice. The views discussed in the above article are those of our analysts and are not shared by Tickmill. Trading in the financial markets is very risky.