Monetary easing spreading around the world, supported stock prices. On Wednesday evening, the US Federal Reserve lowered its target range by 25 points to 1.50%-1.75%, as expected. In the following comments, the Fed head referred to strong consumer spending, home sales, and rising stock prices as signs of the US economy's health. With these words, Powell tried to convince the markets that there would be no further rate cuts.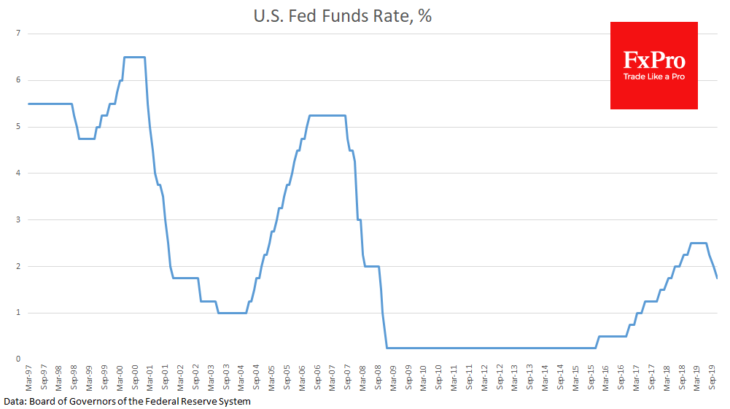 But the initial market reaction suggests that the markets are still confident that they can successfully continue to demand softer Fed policy. The dollar weakened by 0.4% after the decision, and S&P500 and Nasdaq updated their historical highs.
Market growth and weakening of the dollar also contributed to the Fed's statement of intent to bring the volume of short-term t-bills on balance to $1.45 trillion. Although Powell calls not to name it quantitative easing, it looks like QE and has similar consequences as QE.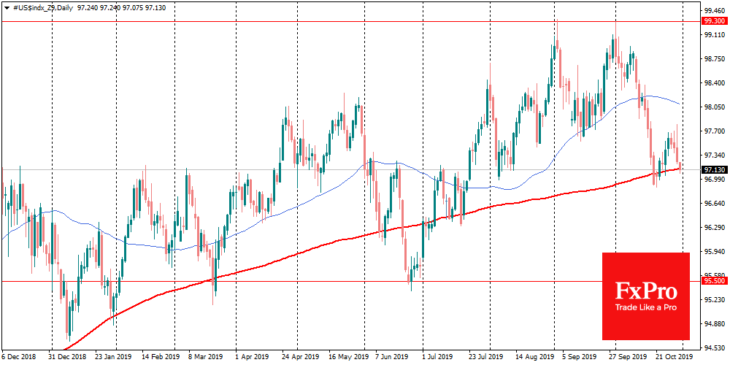 Later, this morning, the Bank of Japan took another baby-step towards policy easing. The interest rate and QQE remained unchanged. However, the accompanying commentary already suggests the possibility of such a step next time.
Separately, from November 1, ECB will start buying assets on its balance sheet. Similar measures from the same trio of central banks in 2016 became one of the main reasons for the market reversal to growth after the failure at the start of the year.
As the FxPro Analyst Team said, Employment data later this week may still affect the dollar trend. However, it seems that the US currency decided on the direction for the near future. DXY is testing the 200-day average on Thursday morning, declining below this critical line. Closing below 97.10 may well open the door to the July low near 95.50 before year-end. EURUSD has yet to reach its 200-day average. A growth above 1.1200 from the current 1.1160 promises to be a strong technical signal to break the downtrend and move the pair to 1.1400 in coming weeks.
An essential milestone for GBPUSD now looks like 1.3000. The pair grew for the fourth day in a row, supported by either hopes for the organised Brexit and general USD decline.