EURJPY added more than 3.0% to its value so far this month, getting closer to the 200-day simple moving average (SMA) that remains untouched over the past year and could play a key role for the rally to keep going.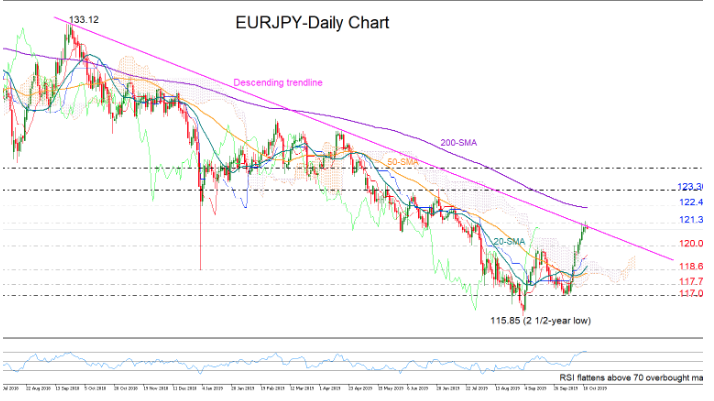 Yet, with the market trading in the crossroads of the key 121.36 resistance and a long-term descending trendline at a time when the RSI is fluctuating above its 70 overbought mark, speculation is rising that the bullish action could soon run out of fuel.
A decisive close above the downward-sloping line and the 121.36 barrier could drive the price up to the 200-day SMA and the 122.40 resistance, where any successful violation would cement the recent rebound and resume bullish sentiment in the three-month window especially if the bulls manage to beat the previous high of 123.30 as well.  If that is the case, then the next challenge for buyers may be the 124.60-125.00 area encapsulated by the 2018 low and a key restrictive area.
Failure to surpass the descending resistance line could see a downside correction towards the 120.00 level. If this proves easy to get through, the sell-off could stretch towards 118.60, which strongly rejected the bears' assault in December 2018. Moving lower, the bears should add more pressure to overcome the noisy area between 117.74 and 117.00.
In brief, a rally above the 200-day SMA is expected to boost buying appetite. Still to get to this point, EURJPY, which looks to be trading in overbought waters, should first overcome the long-term uptrend line and the key 121.36 resistance number.