On Monday morning, a barrel of Brent is back to bearish influence: the instrument has weakened significantly and is trading at 32.49 USD, which is quite low.
Investors continue selling oil out of fear of falling demand for energy commodities and concerns that the consequences of coronavirus pandemic might be more hurtful and serious than they seem right now.
Fear is the key word that influence capital markets right now, including the commodity market. No one can be sure that global loosening of monetary policies and expansion of liquidity on the market worldwide may help to handle the crisis. In times of overall uncertainty, investors prefer to sell.
Among other things, the oil is pressured by a seasonal factor of low demand in energy commodities.
Brent crude on charts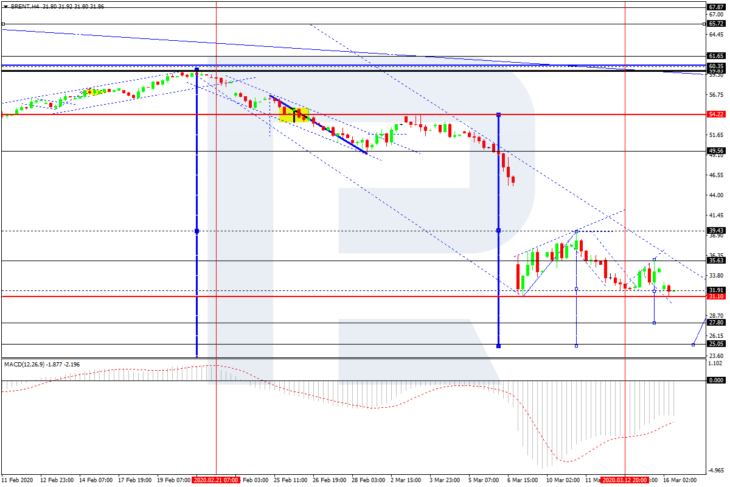 As we can see in the H4 chart, after breaking 49.56 downwards, Brent may continue falling to reach the target at 25.05; right now, it is expected to break 31.10. After breaking this level, the pair may form a narrow consolidation range. If later the price breaks this range to the downside, the instrument may boost its decline with the above-mentioned target. After that, the instrument may start a new growth to return to 31.10. From the technical point of view, this scenario is confirmed by MACD Oscillator: its signal line is moving below 0, thus indicating a further decline.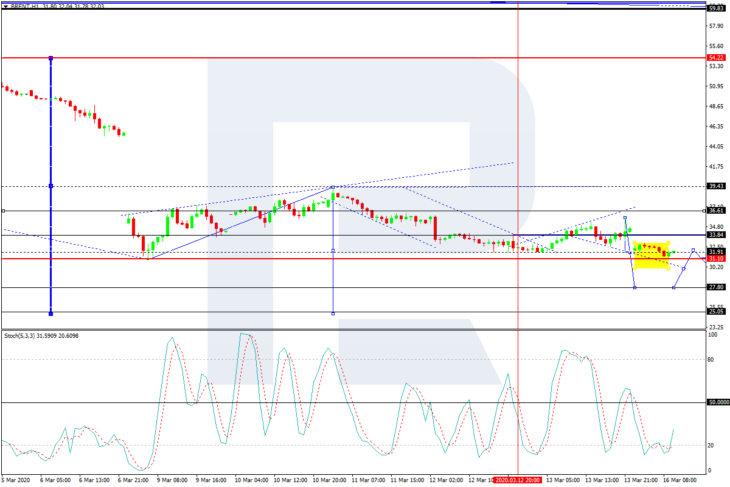 In the H1 chart, Brent is falling and forming a consolidation range around 31.90. The main scenario implies that the pair may continue the downtrend towards 27.80 and then return to 31.10. Later, the price may resume falling with the target at 25.05. From the technical point of view, this scenario is confirmed by Stochastic Oscillator: it has broken 20 to the downside again, thus indicating further decline towards 27.80 on the price chart. After that, the line is expected to reverse and start moving to reach 50.