Last Friday GBPUSD moved upwards, which was rather unusual for the pair that had been updating its multiyear lows for the entire week. However this rebound in the Pound had a reason, but it was so questionable that the instrument couldn't continue its short-term momentum.
On June 7th the British Prime Minister Theresa May will resign from her position. It was rumored for a long time and indeed May suggested the Parliament to approve the Brexit deal in exchange for her resignation. As early as on June 10th, the British government may start looking for May's successor that will be announced on June 20th.
Most likely, the key candidate for May's chair right now is Boris Johnson, a quite famous politician, whose views on the Brexit are extremely opposite to May's. Judging by investors' response to May's resignation, they have a lot of doubts whether Johnson or anybody else can really accomplish what May started. It appears that the Brexit talks may remain unsettled for the long haul. As a result, the stress for the Pound may continue indefinitely.
GBPUSD on the charts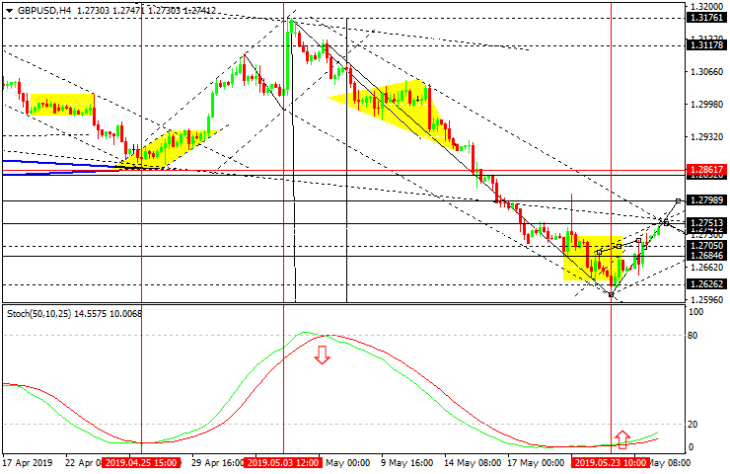 As we can see in the H4 chart, GBPUSD has completed the first rising impulse at 1.2700 and may start a new correction. Right now, it is moving upwards with the target at 1.2751 and may later form a new descending structure to return to 1.2700. After that, the instrument may continue the correction towards the first target at 1.2800, while the key target is at 1.2860. After the correction is over, the price may resume trading inside the downtrend towards 1.2355. From the technical point of view, this scenario is confirmed by Stochastic Oscillator as its signal line is ready to leave the "oversold zone". After breaking 50, the market may start moving faster to finish the correction and then reverse to continue the downtrend.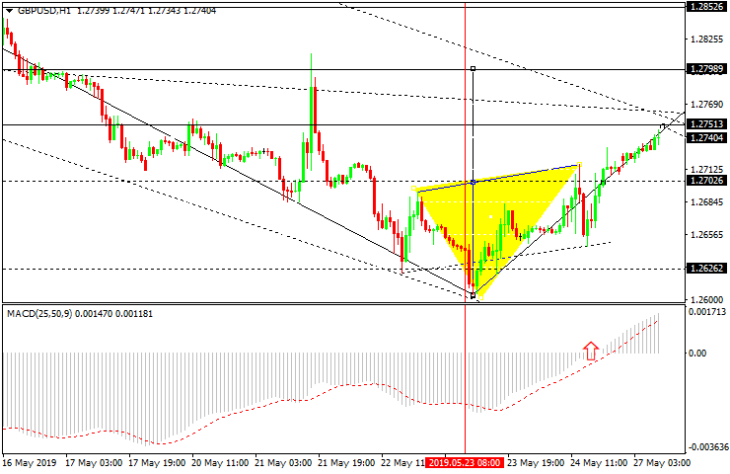 In the H1 chart GBPUSD has formed Head & Shoulders reversal pattern close to the lows. After breaking 1.2700, the pair is trading upwards with the first target at 1.2800. Possibly, the price may reach 1.2751 and then start another to return to 1.2700. Later, the market may form one more ascending structure towards 1.2800, which may be considered as the first wave inside the uptrend. In fact, the instrument may complete the short-term descending tendency and start a new correctional one. From the technical point of view, this scenario is confirmed by MACD Oscillator as its signal line has already broken 0 and right now is steadily trading to reach the first target.